THE REMPIS PERCUSSION QUARTET + TROMBE
SAMEDI 18 MARS / 21H
Ouverture des portes 20h30 / Pannonica
PRÉVENTE : 
Tarif Plein : 13€ / Réduit : 11€
Petit Chat Fidèle : 9€ / Très Réduit : 5€
L'achat sur place le soir du concert est majoré de 2€.
Une tournée pensée et organisée avec Le Petit Faucheux à Tours, Jazz à Poitiers, Plages Magnétiques à Brest, le Périscope à Lyon. 
THE REMPIS PERCUSSION QUARTET
DAVE REMPIS : SAXOPHONES ALTO ET TÉNOR
INGEBRIGT HAKER FLATEN : CONTREBASSE, BASSE ÉLECTRIQUE
TIM DAISY : BATTERIE, PERCUSSIONS
FRANK ROSALY : BATTERIE, PERCUSSIONS
Vous le savez maintenant, Chicago est la place forte d'un jazz protéiforme, lié à l'histoire musicale de cette ville passionnante et aux générations de musiciens sans cesse renouvelées. Nombreux sont les musiciens importants en provenance de Windy City. Dave Rempis en est aujourd'hui un incontournable.Saxophoniste au jeu d'une fluidité incroyable, magnifié par un phrasé d'un naturel absolu, mais aussi promoteur de concerts à l'elastic arts, lieu emblématique pour la création internationale, il travaille depuis une vingtaine d'années à son art : une musique dirigée vers l'improvisation, très ancrée dans l'histoire américaine. Dans ce quartet, Tim Daisy et Frank Rosaly tissent en toile de fond des rythmiques tourbillonnantes pendant qu'Ingebrigt Haker Flaten assure les arrières du saxophoniste. Une musique aux frissons garantis !
© The Rempis Percussion Quartet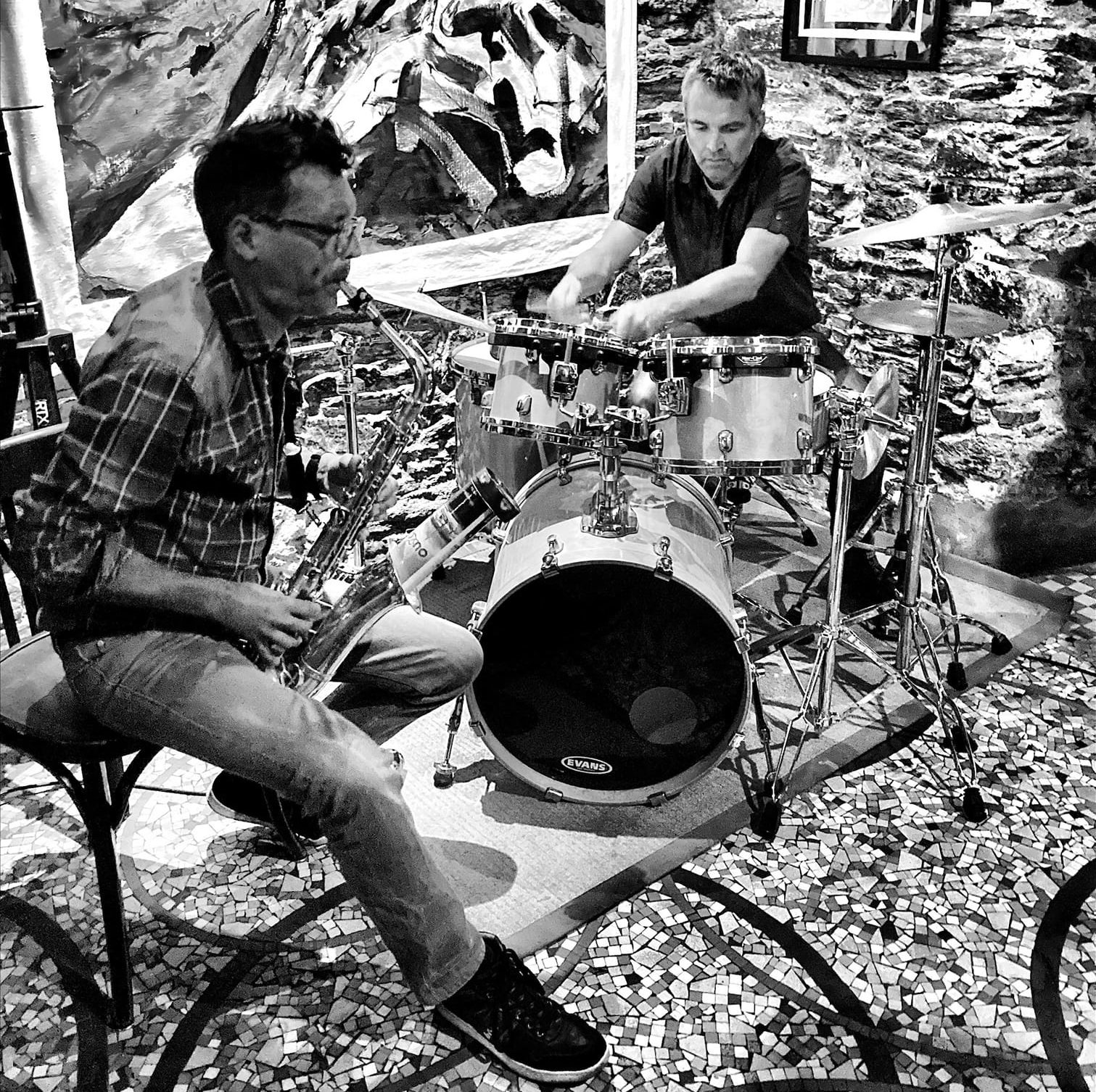 THOMAS BEAUDELIN : SAXOPHONE
ERWAN CORNIC : BATTERIE
(1) Trombe : Phénomène orageux qui se manifeste sous la forme d'une colonne nuageuse (ou liquide) animée d'un violent mouvement tourbillonnaire.
(2) « En trombe » : Brusquement, soudainement, violemment; à une très grande vitesse.
(3) Trombe (de) : Grande quantité (de quelque chose) qui s'abat brutalement, qui se déchaîne ou qui est entraîné violemment et bruyamment.